The United States possess a new generation of football players that have excited fans and Sergino Dest believes that him and his teammates could win the World Cup in 2026.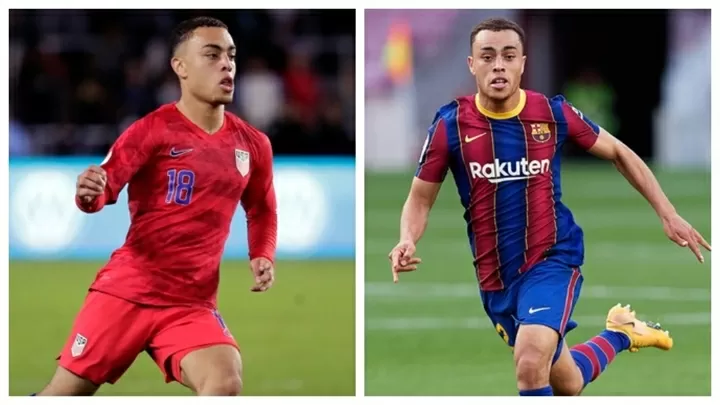 Barcelona's right-back is just one of the prodigies who play for the American national team alongside Chelsea forward Christian Pulisic, Borussia Dortmund midfielder Giovanni and Juventus midfielder Weston McKennie.
"I mean the ball is round, so [the US] always have chances, but I think we will have more chances in 2026 maybe," Dest told the ESPN. "We have a lot of young players in the team. I think we should go and experience [the 2022 World Cup].
"I just hope that we reach far, but that's something we cannot tell yet. I think everybody is extra motivated because it's in the U.S.
"We have to do something really good. Of course we are speaking about it. Everybody wants to play in a World Cup, but it's something special to play in your own country."
Dest joined Barcelona last summer from Ajax to cover for Nelson Semedo who departed to Wolverhampton Wanderers. Under Ronald Koeman, he has been given the opportunity to feature along with other youngsters such as Pedri and Ansu Fati.
"It's been amazing, my dream came true!," Dest added. "I play for Barcelona right now. I had a great debut, I think, against Sevilla, I thought I played well in that game.
"Other than that, we lost the Clasico, but for me, it's just starting, hopefully I can [achieve] wonderful things with this beautiful club and develop myself as best as I can.
"It's really nice to be part of that generation. I think it's also good to play with a couple of young players so that they can adjust to the level.
"That way, [Barca] already have players for the future. I think it's really smart that Barca does that right now and gives us the chance to improve quicker."
Barcelona have struggled in LaLiga Santander in the first stretch of the season and Dest has acknowledged that the Catalan side's players have to deal with some great amount of pressure.
"It's really strange," Dest noted. "You feel it, the pressure, but you don't really feel it. And I think the pressure is something that makes football, it makes the sport, the fans, everything around it.
"It's not boring because you want to play, which is always nice. It's just way better with the fans and the support from outside. My [Barcelona] teammates told me it's so much pressure [with fans at the Clasico] but I have to see it with my own eyes."
Join our WhatsApp Group